Schedule Your Chimney Sweep or Repair Today
The Chimney Safety Institute of America (CSIA) says that fireplaces need to be cleaned when there is 1/8″ of sooty buildup inside the chimney or flue system. Since homeowners may not be able to judge the condition of the system, it is advised that a professional Chimney Inspection be done by a member of the National Chimney Sweep Guild (NCSG)*. This will determine whether a chimney cleaning is needed. When any glaze is appearing in the flue, cleaning should be done immediately. This glazing is a dangerous state that is susceptible to combustion. When an accumulation of soot and creosote occurs it can fuel a chimney fire that will likely damage the chimney. Many chimney fires that start this way can spread to the roof and home.
---
The National Chimney Sweep Guild recommends to have your chimney inspected once a year.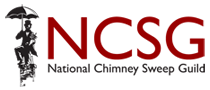 *T.J.'s Chimney Service is a member of the NCSG
Complete the form below to schedule your next chimney sweep or repair.
For clicking on our Facebook Ad we are offering the following discounts: $100 OFF any chimney repair and/or $20.00 OFF any chimney cleaning.