6 Benefits of Gas Fireplaces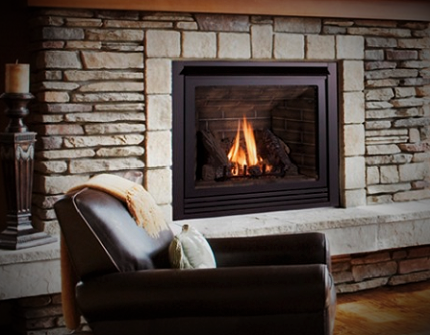 Do you want the warm, cozy ambiance of a roaring fire on a cold winter night without the hassle of seasoning the firewood, starting the fire and cleaning up the ash afterward? A gas fireplace can be a great alternative to a traditional wood-burning fireplace.
If you're not sure whether a gas fireplace is the right solution for your home heating and décor needs, check out these 6 benefits that a gas fireplace can offer you:
Less hassle & easy to use
Unlike a wood-burning fireplace, you don't have to chop or buy firewood, season it, store it and carry it into the house. Also, gas fireplaces are easy to start. Typically, you only have to flip a switch or press a button on a remote control to have an instant roaring fire. And they're just as easy to turn off, too – no waiting for the embers to die.
Constant heat
You don't have to worry about running out of firewood with a gas fireplace. Your home's gas line provides a continuous source of fuel for your fire. And a gas fireplace provides an even heat, since there aren't any logs that burn down..
More environmentally friendly
While both wood-burning and gas fireplaces produce pollutants that can get into the air, gas fireplaces release fewer pollutants compared to wood-burning fireplaces, according to the Environmental Protection Agency.
Cleaner and safer to use
Unlike wood-burning fireplaces that produce soot and ash, you don't have to clean up anything with gas fireplaces. Also, burning wood produces creosote, a highly flammable by-product that can accumulate on the inner walls of your chimney and increase your risk of chimney fire. Gas fireplaces don't produce creosote.
Variety of designs and sizes
Gas fireplaces come in a wide variety of styles and sizes – from traditional to contemporary to ultra-modern. You can also choose gas logs that are designed to look like real firewood. T.J.'s Chimney Service of Greenfield, IN, offers some great, high-quality gas fireplace products for your home.
Easy maintenance
Gas fireplaces require little maintenance since they don't produce soot and ash like wood-burning units. However, the Hearth, Patio & Barbecue Association recommends that you have your gas fireplace inspected annually by a fireplace/chimney professional. The experts at T.J.'s Chimney Service will inspect your gas fireplace burner, fan, venting, pilot light, thermostat and log set to ensure everything is in good-working condition. Call T.J.'s Chimney Service at 317-455-5310 to schedule your gas fireplace inspection today!