People sometimes ask us how we stay safe on the job. Because we often end up on people's roofs, chimney safety is a top priority. Below is the basic checklist for staying safe.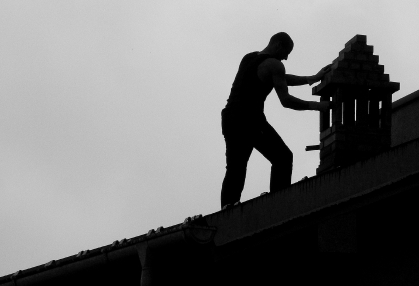 Check the Ladders – Climbing up to the roof and back down again can occasionally be tricky. We always make sure that our ladders are in top shape and that we place them properly on a home or business. A bad fall can lead to severe injury or even death.
Be Aware of the Surroundings – A roof is rarely level, so balance is imperative. Overhanging tree branches can be an issue, as well as stumbling blocks like satellite dishes. A lack of focus can be dangerous.
Respiratory Health – A dirty chimney has a lot of junk that needs to be cleaned out. Soot, dirt, and other forms of bacteria collect, which are not pleasant to inhale. Wearing a mask is our number one source of protection.
Protect the Eyes – We don't want to inhale the debris in a chimney; we also don't want any of those particles to get in our eyes. To ensure that our vision stays in tip-top shape so we can do our job, goggles are a must.
Finally, No Fires – This one is obvious, but still needs be stated. Before we get started on cleaning a chimney, we confirm that no fires are active. That's a surprise we never want.
Five simple steps, but they're critical to our success. Has it been a while since you last had your chimney cleaned? Give us a call today! We'd be happy to set up a time that works for you.