How Do I Pick The Perfect Wood Burning Stove?
With winter just around the corner, many homeowners will be looking for ways to reduce their home heating costs. One option is to install a wood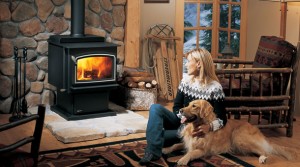 burning stove. Properly installed, a wood burning stove can be an excellent alternative to natural gas. A wood burning stove is also a more environmentally friendly way to stay warm when the cold settles in. Before selecting your wood burning stove, consider the following:
1)      Is the stove Environment Protection Agency (EPA) certified?
Most wood burning stoves on the market are certified, but it doesn't hurt to look for a sticker on the unit to confirm.
2)      How big is the space you want to heat?
Are you interested in heating a small house or a small room? The square footage of the space is critical in determining the best stove for your needs. Then check the stove's Btu rating, which should also be on the unit sticker. The rating indicates the level of heat output provided by the stove.
3)      Catalytic or non-catalytic?
Most wood burning stoves on the market have either catalytic combustion or non-catalytic combustion.  Both are effective but there are differences in performance. Catalytic stoves tend to be more complex, as well as more expensive. Non-catalytic stoves are more commonly installed but require more general maintenance.  You'll want to talk to an expert to determine what's right for you.
Are you thinking about having a wood burning stove installed in your home?  Check out our full line of wood burning stoves. Give us a call today. One of our technicians would be happy to discuss the options available.