Safety Tips for Factory-built Fireplaces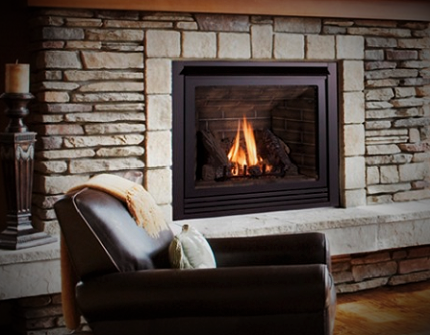 Is your home less than 50 years old? Was your home's design one of a half a dozen new build designs in a planned neighborhood? Does your home have a fireplace or multiple fireplaces? Well, chances are your home features a factory-built fireplace.
Factory-built fireplaces – often called pre-fab fireplaces – are constructed and assembled in a factory where they must meet rigorous testing standards established by the Underwriters Laboratories and the American Gas Association. They are then transported to the building construction site and installed by a professional fireplace installer.
While properly installed, factory-built fireplaces have an excellent safety record, there are some things you should and shouldn't do when operating your factory-built fireplace to keep your family and home safe.
Before you start a fire in your fireplace:
Open the damper, so the fire will have proper air flow.
Don't overload the fireplace with too much firewood. Otherwise, a burning log could roll out.
Always burn well-seasoned wood – never wet or green wood.
Never burn your Christmas tree in your fireplace. A dry Christmas tree can cause a hot fire that may warp the metal used in the construction of your fireplace.
Don't use too much paper in your fireplace, especially paper with colored inks that contain harmful chemicals you could breathe in.
Do not use flammable liquids, like gasoline, kerosene, lighter fluid, etc., to start a fire.
Once a fire is going:
Close the screen to keep any sparks from flying out that could start a house fire or burn loved ones or pets.
Close the glass doors only when the fire is almost out.
Other tips to heed:
Never install a free-standing or insert-style wood stove into a factory-built fireplace and chimney system – unless the insert has been tested and listed for use in a factory-built fireplace AND it has been approved by the chimney system manufacturer (not just the stove manufacturer). Installing an insert that's not designed to be used with your factory-built fireplace could cause a house fire.
Have your factory-built fireplace inspected and cleaned at least once a year by a professional chimney sweep company, like T. J.'s Chimney Service. T. J.'s Chimney Service is certified by the Chimney Safety Institute of America, a non-profit, educational organization that's dedicated to chimney and venting system safety. Contact us today to schedule your annual, professional chimney inspection and cleaning.