#tbt: Throwback Thursday to the Good Ol' Days!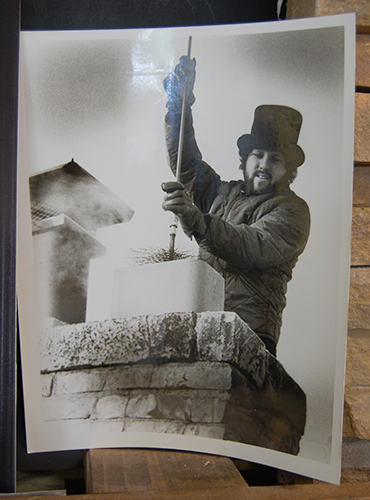 Hi! Tim here. I started TJ's Chimney Sweep back in 1979 (which means we had our 36th birthday this year).  I launched it as a way to earn a second income and to get away from working in a factory.
This was right at the time when the old oil embargo was well under way and wood stoves were soaring in popularity. I started working weekends sweeping chimneys. Back in those there was no way to learn except from a kit with a powerful soot sweeper, brushes, and a study manual to help me along the way. I soon got laid off from the factory, so chimney sweeping, here I come!
I thought you might like to see a couple of photos from back in the old days. Seems hard to believe, but I actually wore a coat and a top hat up on the roof. Chimney sweeps enjoy a rich history and lore (read more about that here) and it was fun to perpetuate the traditions. Yep, these are pictures of me!
Business was slow at first—trying to get my name out there with no experience in advertising or running a business. I got in with a stove dealer in New Palestine and by 1984 I had my first employee. I soon found out that a lot of chimneys were in need of repair and that most brick layers did not want to bother with a small job.
In 1986, I went to an Indian Reservation in South Dakota to learn the basics of chimney repairs. In the meantime I also discovered that there was an organization of chimney sweeps called the National Chimney Sweep Guild which I joined, took a test and became certified.
By 1990 I now had a full time employee and also helped start the Indiana Chimney Sweep Guild where I made some good friends and fellow sweeps who followed a good code of ethics.
I now have my son Gabe, who is a journeyman brick layer, help me full time in all aspects of the business, along with a great team of licensed chimney technicians  and expert masons. Susie and Janell are the friendly voices that you will hear when your call our office. I still work out in the field pretty much every day as well, although they're trying to get me to spend more time in the office (we'll see how that goes…).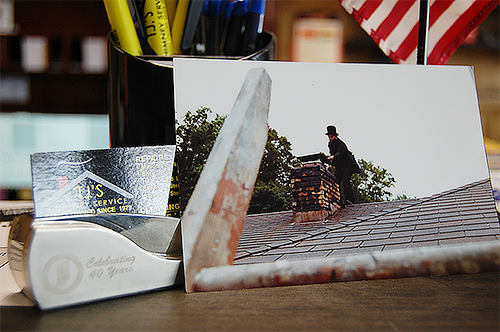 In 2004 I started selling wood stoves and inserts as well as gas inserts. We used to have a showroom at my property along with my office which was available to view by appointment only. In October of 2011 we moved our offices and showroom to a bigger location 866 S State St, Greenfield, Indiana. Stop by and check us out!
Thanks to all our great customers, we are always busy. A few years ago, we also started a new division of our business called Indiana Skylights, offering tubular skylights which save a lot of energy and add a lot of light without heat to homes.
Have a memory to share about TJ's Chimney Service? Please leave a review »