What Is a Factory-built Fireplace?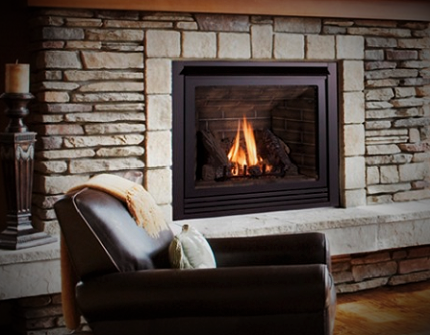 When you think about a fireplace, you probably think of one made of bricks or stones. But did you know that, for over 50 years, many fireplaces used in the construction of new homes are actually made in factory?In fact, factory-built fireplaces now make up about 75% of all types of fireplaces used in home construction per the International Association of Certified Home Inspectors.
But what exactly is a factory-built fireplace? Well, it's just that – a fireplace that's been engineered to a specific design, manufactured in a factory and installed in a home at a later date.
Also called prefabricated metal fireplaces, zero-clearance fireplaces or "builder boxes," most factory-built fireplaces are made of sheet metal and have round, metal chimneys. However, pre-manufactured masonry fireplaces are also available. Made as a complete system, pre-fab fireplaces have a firebox that's enclosed within a steel cabinet and a steel chimney or flue. They also may have insulated walls, glass doors, an air-cooled pipe and blowers that circulate the heat from the fire.
They're called zero-clearance fireplaces, because they're typically installed within inches of combustible materials, like wood framing, drywall or siding. You can tell if you have a factory-built fireplace in your home by checking the outdoor enclosure around your fireplace and chimney. If the enclosure is covered with siding – and not brick or stone, chances are you have a factory-built fireplace. Also, if the front of your fireplace opening has a black metal facing and large visible louvers, you probably have a pre-fab fireplace. If you're not really sure, you can always have a pro, like those at T.J.'s Chimney Service, check it out and tell you what kind of fireplace you have. Just know that factory-built fireplaces are safe and efficient.
While factory-built fireplace models vary, most generate heat in one of two ways.
Standard radiant heat method. The fire heats the fireplace which emits infra-red radiation. This radiant heat heats the room and you.
Circulating air method. Heat transfers to the air as it moves across the hot surfaces of the fireplace. Louvers and a blower are used to force the air along the fireplace's hot walls and then the heated air is pushes out into the living space. Since heat rises, fresh air circulates in to replace it, therefore, circulating the air.
Regardless of whether you have a masonry or factory-built fireplace, normal maintenance and cleaning are necessary to ensure your fireplace operates safely and efficiently. At least once a year, hire a professional chimney sweep, like those at T.J.'s Chimney Service of Greenfield, IN, to inspect and clean your fireplace. Contact them today to schedule your appointment.